Niby nic a cieszy.
Taki malutki Snoopy na blogowej tab.
BTW: miewam coraz większe problemy ze znalezieniem odpowiedniego słowa po polsku gdy w głowie tylko wersja angielska. Staram się jak mogę być na bieżąco, ale z drugiej strony, gówno, nie staram się wcale bo mi nie zależy na tym by każdy nowy zwrot, każde nowe wyrażenie znać w ojczystym języku.
10 lat na emigracji poczynia językowe spustoszenie, zwłaszcza gdy się nie ogląda telewizji i poza książkami nie czyta codziennego języka w prasie czy internetach.
To jedno słówko powyżej, słowo tab – no jak to jest po polsku? Całość to jest strona internetowa albo okno, no ale jak się mówi na tą maleńką tab?
Zadaje pytanie słownikowi w Google, którego o ironio coraz częściej używam pisząc te moje blogowe notki. Brakuje mi polskich słów. Google pomaga mi tłumaczyć język angielski na ten mój ojczysty…
Pytanie do Google:

Ale zaraz łapię się na pierwszy post pod tłumaczeniem, klikam, otwieram w nowym oknie (karcie!) i oto co czytam: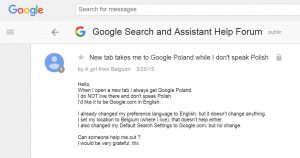 HA! HA! HA! :-)
Mam jedną tylko odpowiedź: Belgia jak dobrze wiemy mieści stolicę Unii Europejskiej, której Prezydentem jest  wielki Polak – Donald. Być może Google dostało przykaz by mieszkańcom Belgii (nie ważne jakiej narodowości i jakie ustawienia mają w swoich komputerach) przekierowywać przeglądarki do tej polskiej właśnie:-)
Tyle o blogach i internetach na dzisiaj. Good bye.