Znajoma rozdała takie oto różyczki w dniu Świętego Walentego w naszym biurze. Ja swoją zabrałam do domu tego samego dnia. Kwitnie do dzisiaj, lubi być często podlewana.
Natomiast wszystkie pozostałe, nie przetrwały nawet nocy. Następnego dnia doszczętnie oklapnięte usychały z każdą godziną by kolejnego dnia trafić do śmietnika.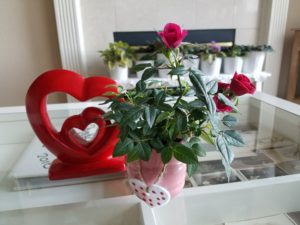 Może to taka metafora na atmosferę w naszym biurze, chwilami beznadziejną.
Może to taki barometr nienaturalnych warunków (brak okien, światła naturalnego, wysuszające AC).