Niewielka pomyłka. Do przeżycia. Świeczka o zapachu, którego nie zamawiałam, ale wcale nie taka zła. No ale zobaczmy co firma postanowi.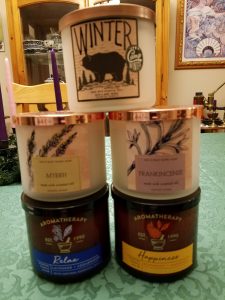 Piszę maila o treści:
Hello,
I just received my order and I noticed that one item is incorrect.
I ordered item # 025361868 Mahogany Teakwood High Intensity Candle (as listed on the packing slip) but I received Winer Candle.
Please see attached picture.
Please send me the correct item that I ordered.
Cheers,
Maria
Otrzymuję szybką odpowiedź o treści:
Dear Maria,
I am so sorry to hear we sent you Winter 3-Wick Candle instead of Mahogany Teakwood High Intensity 3-Wick Candle. To make this right I have sent the Mahogany Teakwood High Intensity to your shipping address at no cost to you.
As an additional apology from us, you may keep the items that you received in error. We do not need this merchandise returned back to us.
Your replacement will arrive within two to seven business days. You will soon receive an order confirmation; in addition, when your order leaves the warehouse you will receive a shipping confirmation email with tracking details.
Maria, I understand the disappointment you must have felt when the wrong item arrived. Thank you for giving me the opportunity to fix this for you. If we can assist in any other way please reply to this email or give us a call at 1-800-756-5005Call: 1-800-756-5005.
Have a wonderful Holiday Season!
Sincerely,
Angie Stevens
Customer Care Specialist
Bath and Body Works Direct
A po kilku dniach listonosz doręcza dodatkową świeczuszkę. ZA DARMO!
Inny przykład.
Herbatę zamówiłam. I nie ma. Ileż mogę czekać? Wiem, że przed świętami poczta i kurierzy mają pełne ręce roboty, ale kurcze gdzie jest moja paczucha? Na trackingu jakieś dziwolągi, wygląda jakby paczka przyleciała z NY do San Francisko, poczym znowu poleciała do NY.
No nic, wysyłam maila z zapytaniem oczywiście oczekując podejścia jak w firmie świeczkowej:
Hello,
Could you please let me know when I can expect the teas?
The tracking looks a bit strange. Looks like the parcel was traveling twice already between NY and CA.
I would really appreciate to receive my teas by Monday 12/11.
Thank you for your help.
Cheers,
Maria
oczywiście wklejam całą historię trackingu paczki
Oto odpowiedź:
Hi.
That is the tracking we have to. Maybe it will arrive to you today or tomorrow. Thanks Carol
Że co? Are you kidding me?! Co to za słowo w profesjonalnej korespondencji "maybe"?! Oj nie daruje takiego traktowania! Oto co niejaka maybe-carol otrzymuje w odpowiedzi na swój dwuzdaniowy list:
Hi Carol,
I appreciate your prompt response but, frankly, this is not a response I was expecting while being a long time loyal customer of your company who has spent many hundreds of dollars on merchandise from you.
I think I made it clear in my email to you that I need the teas I ordered from you by Monday, December 11. Knowing how important this is to me, I have placed my order on November 30 in order to avoid a last minute rush. In the past, I always received my orders within a week of placing them.
When I contacted the Customer Service to point out that the order is very late and that there are some strange irregularities in the tracking data I did not expect you to tell me what I already know (that it MAY arrive any day). Rather I expected that you would be able to either resolve the situation by contacting the shipper or to remedy the problem in other way. After all, this is why your company has the Customer Service, isn't it?
I do hope to hear from you soon with a satisfying resolution that will allow me to include your excellent teas in Christmas packages for my family and friends (packages which need to go out on coming Tuesday).
Cheers,
Maria
ROZUMIEMY SIE?!
NO!
:-)