Co to wlaściwie jest krzesło?
Każdy z nas może odpowiedzieć do czego służy (np. do siedzenia), z czego jest wykonane (np. z drewna), ale czy potrafimy jednoznacznie odpowiedzieć co to jest krzesło?
Przejżalam fora dyskusyjne, na których pojawia się to pytanie.
Odpowiedzi mnóstwo, ale brak tej właściwej.
W paryskim Centre Pompidou na jednej z wystaw sztuki współczesnej zrobiłam takie oto zdjecie: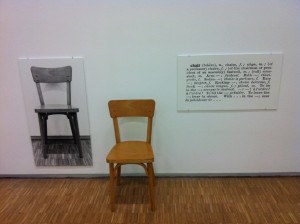 Autor tego projektu zapewne też zastanawiał się nad tym (nie) ważnym pytaniem. Czy krzesło to krzesło, czy zdjęcie krzesła, a moęe definicja ze słownika?
Tutaj mały joke, znaleziony przy okazji szukania tekstów na powyższy temat:
A philosophy professor walks in to give his class their final. Placing his chair on his desk the professor instructs the class, "Using every applicable thing you've learned in this course, prove to me that this chair DOES NOT EXIST."
So, pencils are writing and erasers are erasing, students are preparing to embark on novels proving that this chair doesn't exist, except for one student. He spends thirty seconds writing his answer, then turns his final in to the astonishment of his peers.
Time goes by, and the day comes when all the students get their final grades…and to the amazement of the class, the student who wrote for thirty seconds gets the highest grade in the class.
His answer to the question: "What chair?"
A oto uciekające krzesło, zdjęcia zrobiłam w San Francisco: