Mimo że w pracy (tej drugiej*) czasami przeklinam pod nosem na komputer, na którym muszę pracować, to i tak jest mi niezmiernie smutno, że tak młodo odszedł geniusz, który go zaprojektował.
Kto wie co jeszcze mógłby zrewolucjonizować gdyby dane mu było wygrać z chorobą. Kto wie…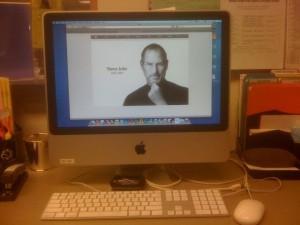 *w administracji pracuję na pecetowym dellu, gdzie każdy projekt wykonuję błyskawicznie, w tutorialu na moim biurku mam iMack'a, każdego dnia uczę się czegoś nowego o jabłkowym kompie, ale idzie mi to mozolnie.