Sen mi się śnił dzisiaj taki, że się uczyłam szyć na maszynie.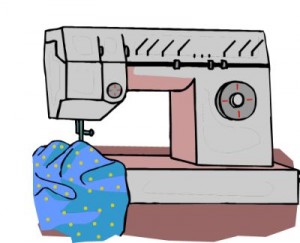 Chciałabym posiąść tą umiejętność.
Chciałabym szyć tak jak moja babcia, która uchodziła za niezwykle zdolną krawcową.
Czasami potrzebuję coś przeszyć, podszyć i ze wszystkim zawsze chodzę do praktycznej pani*.
A to obrus trzeba skrócić na mniejszy stół, a to podszewka płaszcza się odpruwa, a to nogawki nowych dżinsów za długie – z projektami tego typu nie poradzę sobie sama, zawsze szukam pomocy w zakładach krawieckich.
*praktyczna pani – dokąd sięgam pamięcią wszelakie usługi krawieckie nazywałam praktyczną panią. Kiedyś gdzieś to usłyszałam i tak mi już zostało. Słyszałam inne nazwy tego typu usług, w zależności od regionu kraju, np. igiełka:-)
Oto co znalazłam wpisując w google 'praktyczna pani':
http://szczecin.gazeta.pl/szczecin/1,40765,3025107.html
Pojęcia nie miałam, że w praktycznej pani to nie tylko garsonkę można było sobie uszyć ale również pożyczyć zestaw obiadowy na przyjęcie.