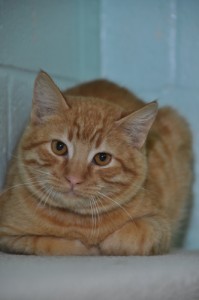 I am one of last year's kittens. I may be a little older, but I am still playful and full of kitten spunkiness. My personality is more developed, so you can see what I will probably be like when I grow up.
Powyższe zdjęcie i opis znaleźliśmy na www.petfinder.com i od razu zapragneliśmy adoptować tego kociaka.
W piątek rozpoczełam tygodniowe ferie wiosenne, więc popołudniem wybralismy się do schroniska z zamiarem przygarnięcia tego słodziaka.
Jest już z nami i jest bardzo nieśmiały. Większość czasu spędza pod łożkiem, wyczołguje się gdy go wołam.
Uwielbia być głaskany i szczotkowany, ale jednocześnie wciąż jest bardzo zalękniony.
Na imię daliśmy mu Pepper Junior czyli P. J. (pi dżej).
Pimienta nie darzy go sympatią i mimo że on jej nic złego nie robi, to ona wciąż w jego obecności bardzo prycha.
Mamy nadzieję, że to się w najbliższej przyszłości zmieni, że ona go zaakceptuje i zostaną kumplami.